When you take the LIGHT of the church, and combine it with the LOVE of a family, you increase the potential to impact a kid's life!
"I believe whole heartedly in the Orange Strategy, and hope to turn it into the norm, not just a strategy at FUMC Peoria. I believe God has called me into ministry to not only help children grow in their faith, but to also help families grow in faith together. My goal is to equip families with the tools to allow God to be a part of their everyday lives. I can't wait to PARTNER with you on what is sure to be an exciting adventure."
Kara Bushong, Director of Children & Family Ministries
Click here to request to join our Children's Ministry Facebook Group
6w2p + VBS - church building =
FOCUS VIRTUAL EXPERIENCE
6 Ways 2 Praise and VBS are teaming up this summer to go virtual!

Due to the pandemic, we won't be able to host our annual Fine Arts Camp or Vacation Bible School at the church this year. But, we can offer a virtual experience that incorporates elements of both as we explore four different ways we can FOCUS on God: see, hear, talk, and live.

Our FOCUS VIRTUAL EXPERIENCE will help preschoolers through preteens dive deeper into their faith as they encounter God's word through music, stories, and age-appropriate activities.

The kids will have a blast discovering how to trust in what they CAN'T see by FOCUSing on what they CAN see, without overwhelming their parents. To make this possible, our team will be spreading this experience throughout the summer. Every Wednesday, from June 17 through August 5, we will offer a new 30-45 minute experience for each of these grades: preschool, K-2, 3-4, and 5-6!

There is no charge for this virtual experience, but registration is required in order to determine how many supplies will be needed. All supplies that parents do not already have on hand will be provided. You will receive an email with supply pick up days and times after registration closes for each session.

You can register your child for the entire summer or for each two week session before the due dates listed below. Register your child here: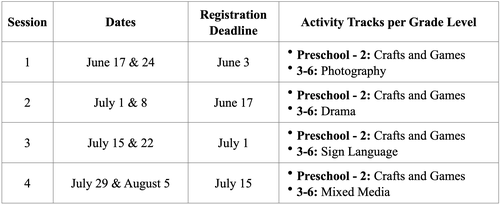 CHURCH + HOME = GREATER IMPACT
Children may join us in the Traditional Worship Service. Worship bags are provided to assist with engaging in the worship experience. There will also be a children's message during this service.
Sunday School – Pre-K through grade 5
Children's Choir or Small group – K through grade 5
Children's small group for those attending the Renuevo Service – K through grade 5
Grades 2-5 welcome for an evening of learning how to apply the Bible to our every day lives.
Children in grades 3-5 are invited to join us for fun and fellowship through a variety of events. The goal is to help children recognize their need for relationships and learn to build them well with other children, adults, and ultimately, with Jesus. The more the merrier! And, kids are encouraged to invite friends. Be on the lookout in your email, announcement slides at church, Facebook, The Herald, and more, for upcoming events.
You have a direct line to our children's department. All messages here go directly to Children & Family Ministries Director, Kara Bushong.