The mission of the Foster Gallery for Christianity and the Fine Arts is to nurture mutual understanding and appreciation of the connection between art and faith, and to develop and strengthen relationships between artists, the community, and the church.
The Foster Gallery is made possible by the generous support of the Foster Endowment through the Peoria First United Methodist Church Foundation .
Ellen Foster was a member of First United Methodist Church who endowed the Thomas S. Foster Endowment for Christianity and the Fine Arts. "Ellie" was known to friends as a talented, gracious, spirit-filled lady who strived to make a difference. Active in both church and civic activities, this gallery is named for the Fosters in honor of their contribution "to provide partial funding of an outreach ministry of First United Methodist Church of Peoria which will focus on the impact of Christianity on the fine arts."
The public is welcome to all events and exhibits at no cost.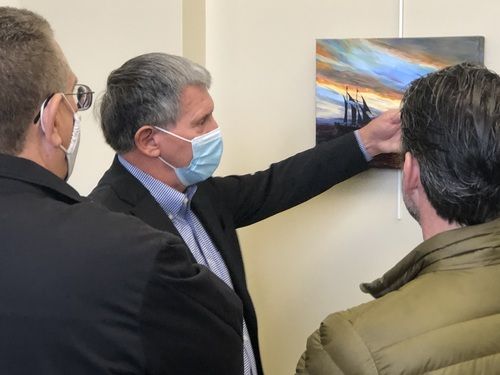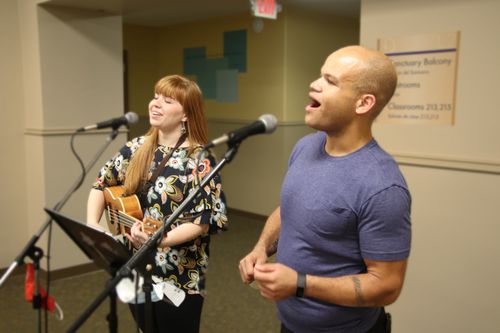 May 13
6–8 PM
First United Methodist Church, Room 215

Join us for a two-hour studio session and gallery walk as Lisa Nelson Raabe guides you in creating incredible artwork. Lisa will walk you through her design processes and show you how to create mixed media artwork. You will make images that reflect your faith and positive outlook on life. No skill is necessary. This session is for adults, and there is no charge to attend. 15 slots are available, so register today.
Lisa Nelson Raabe is originally from western New York state. During her early adult years, she lived in Chicago, where she graduated from the School of the Art Institute of Chicago. Her interest in the transformational qualities of image-making inspired her to pursue a master's degree in Art Therapy. For 15 years, she worked as a foster care therapist for the local Catholic Social Services and the Children's Home, focusing on the creative processes for trauma relief. Lisa retired in 2018 and recently completed a Master of Fine Arts degree in painting at Bradley University. She enjoys gardening, swimming, and hiking in Forest Park Nature Center.


On Exhibit March 25 – April 21
The Foster Gallery is pleased to exhibit artwork by Lisa Nelson Raabe, a collage artist who paints with an emotional sense of place by using pigments, metal filings, glass, bits of nature, and thread to transform color and texture.
The exhibition reception will be held on First Friday, May 6, 5-8 PM, with an artist talk at 7 PM and live music by Paul Adams.
Monday through Friday | 9 AM - 1 PM
Sunday | 8:30 AM - noon
Other showings by appointment
Contact the Foster Gallery