The mission of the Foster Gallery for Christianity and the Fine Arts is to nurture mutual understanding and appreciation of the connection between art and faith, and to develop and strengthen relationships between artists, the community, and the church.
Ellen Foster was a member of First United Methodist Church who endowed the Thomas S. Foster Endowment for Christianity and the Fine Arts. "Ellie" was known to friends as a talented, gracious, spirit-filled lady who strived to make a difference. Active in both church and civic activities, this gallery is named for the Fosters in honor of their contribution "to provide partial funding of an outreach ministry of First United Methodist Church of Peoria which will focus on the impact of Christianity on the fine arts."
The public is welcome to all events and exhibits at no cost.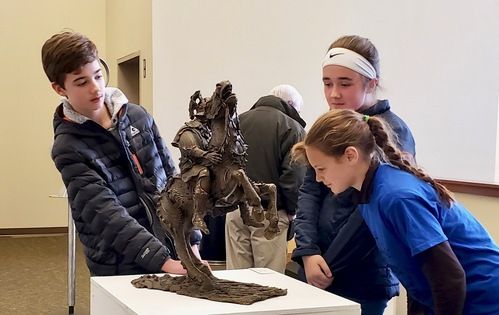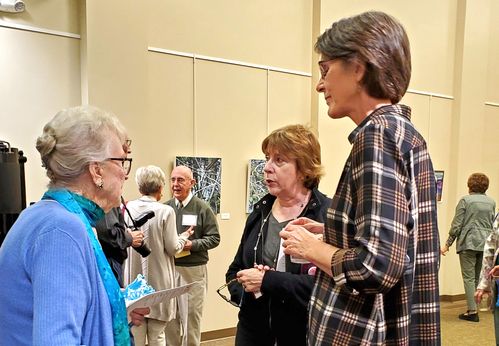 January 12 – February 16
The Foster Gallery for Christianity and the Fine Arts is pleased to once again offer Artistic Abilities. We focus on work by artists with intellectual/developmental disabilities, because these individuals are seldom recognized as artists. This year we are featuring the work of artists from EP!Casso and Tazewell County Resource Center. Many of the artists will attend our First Friday open house on February 7 from 5–8:30 PM. Please come and meet these gifted artists.
The Road to Redemption
featuring the work of Rosemarie Adcock
February 26 - April 19

Open House: March 6, 5-8:30 PM
Receptions March 27 and 28, 7:30 PM

The Foster Gallery at First United Methodist Church is pleased to exhibit work by Rosemarie Adcock. In this exhibit, the artist shares the Christian faith in a fresh and vibrant way, showing images and symbols that connect across the many pages in the Old and New Testament to reveal the stunning harmony spanning time from the beginning until now. The viewer can see a display of God's part ancient, and part future story, pondering how we ourselves might be connected to God's entire narrative.

Rosemarie Adcock has exhibited extensively in the United States and Europe, where her paintings are in numerous private and corporate collections. She founded the charitable organization, Arts for Relief and Missions (ARM), using the arts and music as a bridge to reach our changing culture with God's unchanging word.


Monday through Friday | 9 AM - 5 PM
Sunday | 8:30 AM - noon
Other showings by appointment
Contact the Foster Gallery
Inquiries here go directly to Dr. Carol McPherson, Director of Discipleship and Fine Arts Ministries