The Online Magazine of First United Methodist Church
Welcome to the online home of The Herald magazine
A publication of Peoria First United Methodist Church
July Outdoor Worship: Fire of the Spirit, Heat of the Sun
God's presence was deeply known as we gathered again in the FUMC main parking area for outdoor worship. Spacing and mask restrictions were still in place, but they couldn't quell the joy and wonder of gathering with friends for this beautifully diverse service featuring elements from all of our worship experiences.
On the cover
Micah Moore has the Word well in hand as he experiences our July outdoor worship service safely behind a mask.
Photo by Greg Fish
HOPE IS NOT ABOUT CIRCUMSTANCES
By Pastor Tim Ozment
I've heard it said, "Hope is not a strategy." I believe there is great truth in that phrase.

Hope, when defined as simply wishful thinking, won't get us the job we want. Just sitting around hoping to get hired will never replace the hard work of completing the training or education needed to hold a good job. Hope, as a mere longing, will never replace actually filling out an application.

An important distinction to make is that hope as defined by a modern description may simply mean I wish this would happen; but, hope as defined by the Bible is a confident expectation that God will keep the promises He has made and deliver me. Faith-filled hope is not just wishful thinking; my hope resets secure in the power, presence, and goodness of God.
Mission, Vision, and Strategic Planning
Last year, we invited the Unstuck Church group to help us evaluate, analyze, and rethink our mission, vision, and strategies at FUMC. Little did we know then that the pandemic would create a major break in our activities and worship services.

We are taking advantage of this break, and the opportunity to do the deep work of prayer and analysis needed, to refocus everything we do regarding the call God has placed on us to make healthy disciples of Jesus Christ for the transformation of Peoria and the world.
How 6 Ways 2 Praise and VBS found virtual FOCUS
By Kara Bushong
It's all about FOCUS! All summer long, we have been learning about some of the different ways we can FOCUS on God. These include, "SEE, HEAR, TALK, and LIVE."
Mr. Rogers? No... Miss Sue!
Finding Hope Through Stories
By Christina Koeppel
Several people have compared Miss Sue with the fabulous Mr. Rogers. Being in the room when the magic is happening, I can agree.
Losing Our Social Identity
By Rev. Tanya Edwards-Evans
Even as believers, we have not fully embraced or accepted the description of humankind as described in Genesis 1:27:



"So God created humankind in his image, in the image of God he created them; male and female he created them." (NRSV)

If we believe this verse, then the hue of a person's skin will not matter as much as their integrity, their character, and their faith.

Last month I asked the question, "What is the reason for this fear of black or African-Americans in our society?" This is the 21st century. Why is there a fear of black people, and particularly black males, in a country where citizens believe this to be the land of opportunity, the land of liberty, and we claim "Trust in God" as our motto?
I'M HERE! Please go to our website and check-in whenever you watch one of our online worship service broadcasts. Just below the welcome video on the homepage, you'll find a light blue banner with the heading, "I'm Here." Click the button and fill out the brief questionnaire to let us know you're watching, and feel free to leave a comment; our staff reads every comment sent. Since it's likely we'll need to continue some form of digital option for watching the services into the near future, the "I'm Here" check-in helps us to stay in touch with you digitally.
Throughout the printed version of The Herald, you'll now find QR codes. Scan them and they'll take you to places on our website where you can explore more content, enhanced stories, and additional pictures. It's a great way to find more content than we can include in our print edition. The digital version of this magazine is released at the same time as our print version so that you can conveniently read our stories on any computer platform (phone, tablet, notebook, or desktop).
You can download our podcast, Stories From the 116, on Apple Podcasts, Spotify, Podbean, or on the Media page of our website. Look for our podcast featuring Pastor Tim Ozment addressing the issue of reopening. Other recent episodes you'll want to check out include conversations with Pastor Tanya Edwards-Evans about racial issues, and Kate Rolffs telling the story of her recent journey to various places around the world to do mission work. Greg Fish hosts the podcast, presenting the stories of the work we do together as we live out our mission together. A new episode is released every one to two weeks.
Fore the Lord Golf Scramble Canceled
Editor's Note: Since the publication of this edition of The Herald in print, the Fore the Lord Gold Scramble has been canceled for 2020. If you have already paid an entry fee, it will be refunded.
Rev. Dr. J. William Jones
We have received word of the death of the Rev. Dr. J. William Jones, who served as as directing pastor at FUMC 1989-93.

Dr. Jones died July 20 in Fort Myers, Florida. He served 44 years of active ministry in the former Central Illinois Conference, retiring in 1993 from FUMC. He was honored with the Peter Cartwright Lifetime Achievement Award by the 2018 Annual Conference.
A service in Florida is being planned with a celebration of his life in Illinois at a later date.

Condolences may be sent to his wife, Anne Jones, 9385 Palm Island Circle North, Ft. Myers, FL, 33903 and to his daughter, the Rev. Cynthia A. Jones, 9381 Palm Island Circle North, Ft. Myers, FL, 33903.
COVID Realities in Liberia
A Tragic Letter from a Friend in Ganta
By Sandy Carver
To say that the status of the School of Nursing in Ganta in the light of COVID-19 has broken my heart, is an understatement.

As the Liberia Steering Committee chair and vice-chair of Missions, I need to update you on the state of Liberia in the midst of this ongoing pandemic. I am sharing with you the response I received from Clinton Zeantoe when I asked him about the situation there. The school has been closed since March. I also inquired about the status of the nursing students, the school, and Clinton himself.
Hey Buddy, Can You Spare Some Time?
By Dan Philips
The hazy, lazy days of summer are upon us, and that means back to school days are not far behind. However, it is still yet to be seen exactly what school days will look like this year.

According to Lincoln K8 Principal Tom Blumer, our Buddy and Fine Arts Ministry is considered a vital piece of the LK8 community. He shares that our programs help students on many levels by providing needed tutoring, mentoring, and positive relational components to the students that need it the most.
What I'm Learning from this Time of Silence
By Douglas Grogan
It has been sixteen weeks since my last choir rehearsal.

This is the first time, in my life, since starting college that there have been more than eight consecutive weeks without a choir rehearsal. In addition, I have missed more Sundays "on property" during this pandemic than I have in the past two decades combined.

These are new records that I wish were not created; but yet, this pandemic has resulted in a few positive learning gains for me.
Seeking Allah, Finding Jesus: A Devout Muslim Encounters Christianity by Nabeel Qureshi
By Lori Herold
True stories about coming to faith in Christ and the raw courage it can take are appealing.

Raised in the United States, Nabeel Qureshi was born into a devout and loving Muslim family. He describes his father whispering the Islam call to prayer when he was yet a baby and teaching him the way of Islam as he grew. His commitment to the Muslim faith may have continued to the end of his short life. But then, he met a Christian in high school and the two became best friends.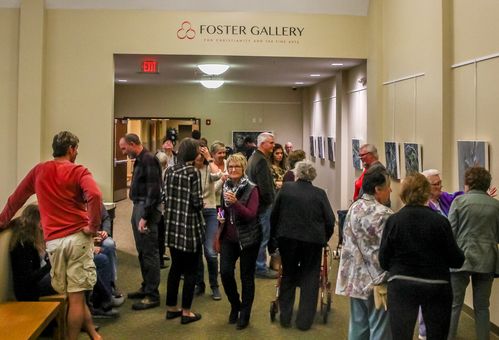 Visit the Foster Gallery... Virtually
Though the shutdown has prevented the Foster Gallery from opening to the public, there are ways you can still enjoy the beauty and expression of great art from home. We now have a virtual exhibit available on our website. You can also view many pieces from past exhibits on our Foster Gallery Facebook page.
Behind-the-Scenes at FOCUS
We leave you with these pictures provided to us by our Director of Children & Family Ministries, Kara Bushong. Here are some shots of the making of our virtual VBS/6 Ways 2 Praise event, FOCUS. We're so proud of the hard work that went into producing this excellent online program when the pandemic forced us to come up with an alternate plan.
View The Herald From May 2020
View The Herald From June 2020
View The Herald From June 2020
Publisher
First United Methodist Church of Peoria

Editor
Greg Fish

Directing Pastor and Contributor
Rev. Dr. Timothy Ozment
Associate Pastors and Contributors
Adrian Garcia
Tanya Edwards-Evans
Miguel Rios

Copy Editing
Mindy LaHood
Contributors
Kara Bushong
Sandy Carver
Douglas Grogan
Christina Koeppel
Mindy LaHood
Dan Philips

Deadlines: Articles to be considered for publication in The Herald must be submitted to Greg Fish at gfish@fumcpeoria.org by 10 AM on the tenth day of the month preceding issue date. In the subject line of your email submission, type, "HERALD." All submissions are subject to editing and style standards, and their use is solely at the discretion of the editor. Picture submissions are encouraged to accompany your submission. Focus on individuals and smaller numbers of people who help tell the story.