The Online Magazine of First United Methodist Church
Welcome to the online home of The Herald magazine
A publication of Peoria First United Methodist Church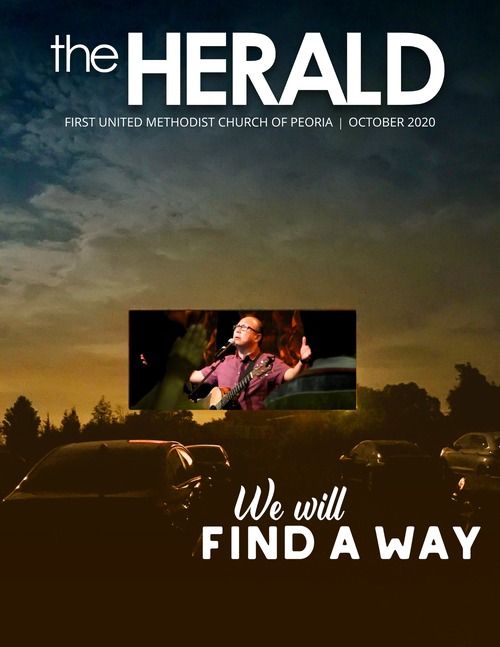 On the cover
This month's cover celebrates the fact that God's people will rise to worship, despite the circumstances. We will find a way. Pastor
Photo by Greg Fish
By Dan Philips
The October Drive-thru Contactless Food/School Supply Drive will help us restock our Loaves & Fish pantry, and provide the students and teachers at Lincoln K-8 with much needed school supplies and PPE (personal protective equipment).
A HEALING TOUCH FOR OUR NEIGHBORS
By Dan Philips
The COVID pandemic has affected how our Loaves & Fish program provides medical outreach, and only recently were we able to resume providing blood pressure and blood sugar checks. In September, we began offering these services twice a month, in a way that limits the potential COVID exposure to our guests and volunteer providers.
By the Rev. Dr. Timothy Ozment
Many people over the years have asked me, "How do I measure my faithful walk with God? Am I where I should be at this point in my Christian experience?"

In October, we have a sermon series coming that will help answer those questions. We'll look at what it means to be a healthy well-rounded disciple of Jesus that goes Higher, Wider, Closer, and Deeper.
By Jerry Motsinger
Thailand Now (Thailand Methodist Mission) is making a difference.

There is a young man named Corn who I first met when I was assigned to Blessing Home, Isan, Thailand for five weeks in May of 2016. Corn had received a college scholarship provided by Thailand Now. He has since graduated college and is now director at Blessing Home. If not for the contributions and prayers of those faithful givers to Thailand Now, Corn could very well be working on the streets of Pattaya.

Despite being in Isan, the poorest area of Thailand, Blessing Home is thriving.
If you purchase from Amazon, be sure to click the link below first. Doing so means that Amazon will contribute a part of their profit to FUMC. This is especially helpful at this time since so many organizations are struggling financially. The AmazonSmile Foundation recently surpassed $200 million in donations to charities worldwide.
By the Rev. Tanya Edwards-Evans
My past two columns have been about the masks that blacks, and other persons of color wear. In this American society, we are still at times judged by the color of our skin and not by SIN.

Often, we are not considered to be people, but rather, a product based on skill or talent. We are seen only as marketable income for someone based on our labor.
Dreaming Together in 2020
By Christina Koeppel
FUMC Peoria Youth Ministries are sponsoring the Dream 2020 Event, presented by Dream Center Peoria.

What does it mean to dream big, to dream beyond the here and now, and to set your sights on a greater plan?
By Kara Bushong
Congratulations to third graders Analise, Colin, Frankie, Jazmin, Jimmy, Logan, Nathan, and Sarah. In early September, FUMC excitedly presented Bibles to our third graders.

While they were not presented in a church service as in years prior, they were handed out in what I hope was a meaningful and thoughtful way. We look forward to encouraging and helping the eight recipients, along with anyone else that wants to participate, dive into God's Word over the next year. We will do this through prayer, lessons, games, letters, conversations, and more. Watch our church website, along with our kids' Facebook page for links and more details.

"In the beginning was the Word, and the Word was with God, and the Word was God." (John 1:1, NIV)
By Lori Herold
For the last few years, I have found myself reading several novels surrounding the Holocaust.

Reading these novels taught me forgotten history. Plus, they educated me of events of which I had no knowledge. They reminded me that there were more players than just Germans and Jews in the concentration camps. And, perhaps most compelling, they gave me a glimpse of intense human suffering at the hands of an evil agenda.
The Soundtrack of Worship
By Miguel Rios, Translation by Miguel Rios, Jr.
Since I was little, I've always been surrounded by music. My parents would always have music playing at home, in the car, and at parties. They loved to dance and were very good at it too.

I remember that the music played had a great variety of genres. It could be Frank Sinatra, Nat King Cole, the Bee Gees, 80's music, as well as the Mexican Spanish language music of that time.

Be sure to read the full article, and see Miguel's Top Ten worship songs that have made a difference for him through the shutdown.
By Douglas Grogan
Well, that's not exactly what our annual Lessons & Carols will be titled, but I can promise it will be unique and very different this year. Our goal will be to take you on a journey up through Christmas. For now, since this will not be in person service, reservations will not be required. Stay tuned for more details.

Read the full article, and also see Doug's helpful list, Ways To Worship When Singing Isn't An Option
View The Herald From May 2020
View The Herald From June 2020
View The Herald From July 2020
View The Herald From August 2020
View The Herald From Sept. 2020
Publisher
First United Methodist Church of Peoria

Editor
Greg Fish

Directing Pastor and Contributor
Rev. Dr. Timothy Ozment
Associate Pastors and Contributors
Adrian Garcia
Tanya Edwards-Evans
Miguel Rios

Copy Editing
Mindy LaHood
Contributors
Kara Bushong
Douglas Grogan
Christina Koeppel
Mindy LaHood
Jerry Motsinger
Dan Philips
Miguel Rios, Jr.

Deadlines: Articles to be considered for publication in The Herald must be submitted to Greg Fish at gfish@fumcpeoria.org by 10 AM on the tenth day of the month preceding issue date. In the subject line of your email submission, type, "HERALD." All submissions are subject to editing and style standards, and their use is solely at the discretion of the editor. Picture submissions are encouraged to accompany your submission. Focus on individuals and smaller numbers of people who help tell the story.