HOPE IS NOT ABOUT CIRCUMSTANCES
HOPE IS NOT ABOUT CIRCUMSTANCES
By the Rev. Dr. Timothy Ozment
I've heard it said, "Hope is not a strategy." I believe there is great truth in that phrase.
Hope, when defined as simply wishful thinking, won't get us the job we want. Just sitting around hoping to get hired will never replace the hard work of completing the training or education needed to hold a good job. Hope, as a mere longing, will never replace actually filling out an application.
An important distinction to make is that hope as defined by a modern description may simply mean I wish this would happen; but, hope as defined by the Bible is a confident expectation that God will keep the promises He has made and deliver me. Faith-filled hope is not just wishful thinking; my hope resets secure in the power, presence, and goodness of God.
Interestingly, in the book of Daniel we read about Shadrach, Meshach, and Abednego. When faced with the threat of being tossed into a furnace, they said to King Nebuchadnezzar:
"If we are thrown into the blazing furnace, the God we serve is able to deliver us from it, and he will deliver us from Your Majesty's hand. But even if he does not, we want you to know, Your Majesty, that we will not serve your gods or worship the image of gold you have set up." (Daniel 3:17-18, NIV)
The hope of these three men was firmly planted in God's ability to deliver them from the fiery furnace; but, even if God chose to not deliver them… they would still serve God. Hope was not about their circumstances; hope was about their belief in a God who was absolutely in control.
Where do you place your hope during these turbulent and troubling times? The psalmist said, "Some trust in chariots and some in horses, but we trust in the name of the Lord our God" (Psalm 20:7, NIV). The psalmist is saying some tend to put their hope and trust in many things they believe will solve their problems like the government, the military, financial security, etc. While it is possible that military might can provide some sense of safety and confidence, we saw on 9/11 that it can never totally defend our borders. Abundant finances may offer some sense of security, but in 2008 we were reminded how quickly investments can evaporate. The psalmist says our hope is not in chariots or horses. Our hope is not in political mechanisms, institutions, or programs that are imperfect.
So, where do we place our hope? Our hope is firmly planted in God. Our hope is in God's ability to change the heart and the head of people who need transformation. Our hope is in God who, through the amazing grace of Jesus, died to set us free from the chains that bind us. Our hope is in God regardless of what the world holds or endures. Our hope is in God who is bigger than our mountains, mightier than our enemies, more gracious and loving than our adversaries. Our hope is not just wishful thinking that the right thing will happen; our hope is in partnering with God so that things can be, must be, and will be better.
That kind of hope drives us to our knees in prayer to ask God for a better tomorrow. That kind of hope lifts us to our feet as we work together with God to make the changes needed in our world. As a great hymn of our faith says, "Strength for today and bright hope for tomorrow, blessings all mine, with ten thousand beside. Great is thy faithfulness! Great is thy faithfulness! Morning by morning new mercies I see; All I have needed Thy hand hath provided - Great is Thy faithfulness, Lord, unto me!"
O Lord, in you I place my hope.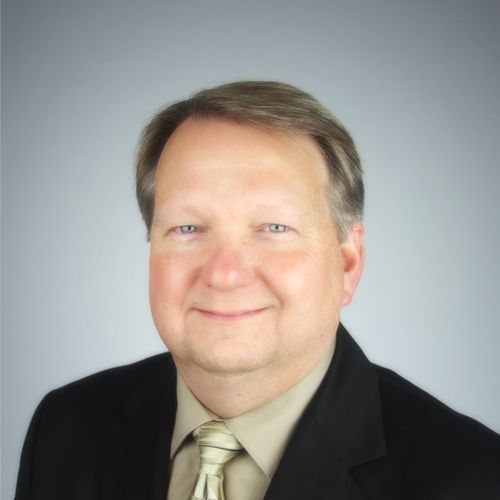 is the Directing Pastor of First United Methodist Church - Peoria